SUPER CAMP OVERVIEW
Day one will include stances/set ups and receiving while day two will cover blocking & hip mobility, flexibility & power.  Day three will focus on throwing fundamentals as well as arm care & velocity development.
AND ONLY AT MY SUPER CAMPS:
And finally, day four will cover what we call "specialty plays." In addition to the skill training sessions we will also have classroom sessions focusing on understanding pitchers & pitching, pitch calling, video breakdowns and mental game topics.
Your catcher will receive 20 hours of elite, professional instruction!
Participants train with Coach Todd and his staff NOT each other.  They will be separated by age and put through several fundamental drills and exercises to help improve their overall ability to play the position of catcher.
What parents are telling Coach Todd:
Hello Coach, Just a note to thank you for working with Paxton for the past 4 or 5 years. Your training has changed his game immensely. He was the starting catcher on his high school varsity team and only the second freshman to ever be a starter on the varsity team in the history of that school. Cheers!
AGE REQUIREMENTS:
All Catchers
 Ages 10 through 18
 (8-1 Catcher to Coach Ratio)
CAMP COST:
$899 per Catcher
 (Pay in full or payment plans are available)
All initial teaching and discussion during camp will be performed by Coach Todd while his coaching staff will help run the fundamental skill stations.
ABOUT COACH TODD
AKA – "The Catching Guy"
___________________________________________
Former collegiate & professional catcher
Founder & President of Gamer Baseball and The Catching Guy
Over 30 years experience coaching catchers
Masters degree in Kinesiology with a focus in teaching & coaching
Authored The View From Behind the Mask, Everything You Need to Know About Catching and More
Featured speaker at CatcherCON 2016.
Featured speaker at the "2018 Be The Best Coaches Convention"
Featured speaker at the 2018 ABCA USF Barnstormers Clinic.
Featured speaker at the 2018 MHSBCA Annual Convention.
Featured speaker at the 2019 ABCA National Convention – Youth Session
Nearly 190,000 followers across several social media platforms
Assistant Coach for the 2021 Silver Medal winning Team USA NTIS 13U Team
Assistant Coach for the 2022 Gold Medal winning Team USA NTIS 13U Team
WHILE AT CAMP, YOUR CATCHERS WILL RECEIVE INSTRUCTION ON…
STANCES – The multiple stances a catcher utilizes throughout a game including one knee set ups.  We can teach your catcher everything they need to know about receiving, blocking and throwing but if they do not get in the proper ready position, if they're not in the correct stance, they will not be able to perform the fundamental skills of a catcher consistently.
RECEIVING – Having soft hands, getting strikes called strikes and getting stri-balls (borderline pitches that could go either way) called strikes with some "mitt magic" will be covered in detail.  Research shows that being a good receiving catcher will help your team more than anything else we do.  We will dedicate a significant amount of time to train your catchers on becoming the best receiving catcher they can be.
BLOCKING – Technique to help you "be a wall!"  Being a good blocking catcher has the potential to save a bunch of runs for your catcher's team.  Although it is one of the least liked jobs of a catcher, it is one of the most important.  We will dedicate a significant amount of time to helping your catcher not only get comfortable with the baseball hitting them but also liking and taking pride in their blocking ability.
THROWING – A catchers throwing ability is always the first thing that coaches, opponents, and scouts notice.  We will cover everything your catcher needs to know to become the best throwing catcher they can be including quick hands, quick feet, arm strength and throwing mechanics.

ONLY IN SUPER CAMPS:

SPECIALTY PLAYS – Although they are rare when compared to the big three of receiving, blocking and throwing, the other "specialty plays" we perform as catchers need to be able to be performed correctly.  Bunt plays, tag plays, force plays and pop ups will all be covered.
AND during the "Final Thought" talks expect your catcher to learn about:

The importance of a good work ethic
What scouts and coaches look for in a catcher
The importance of training their brain as much as they train their body
The importance of controlling your emotions
The characteristics of a successful catcher
The importance of doing well in school and more!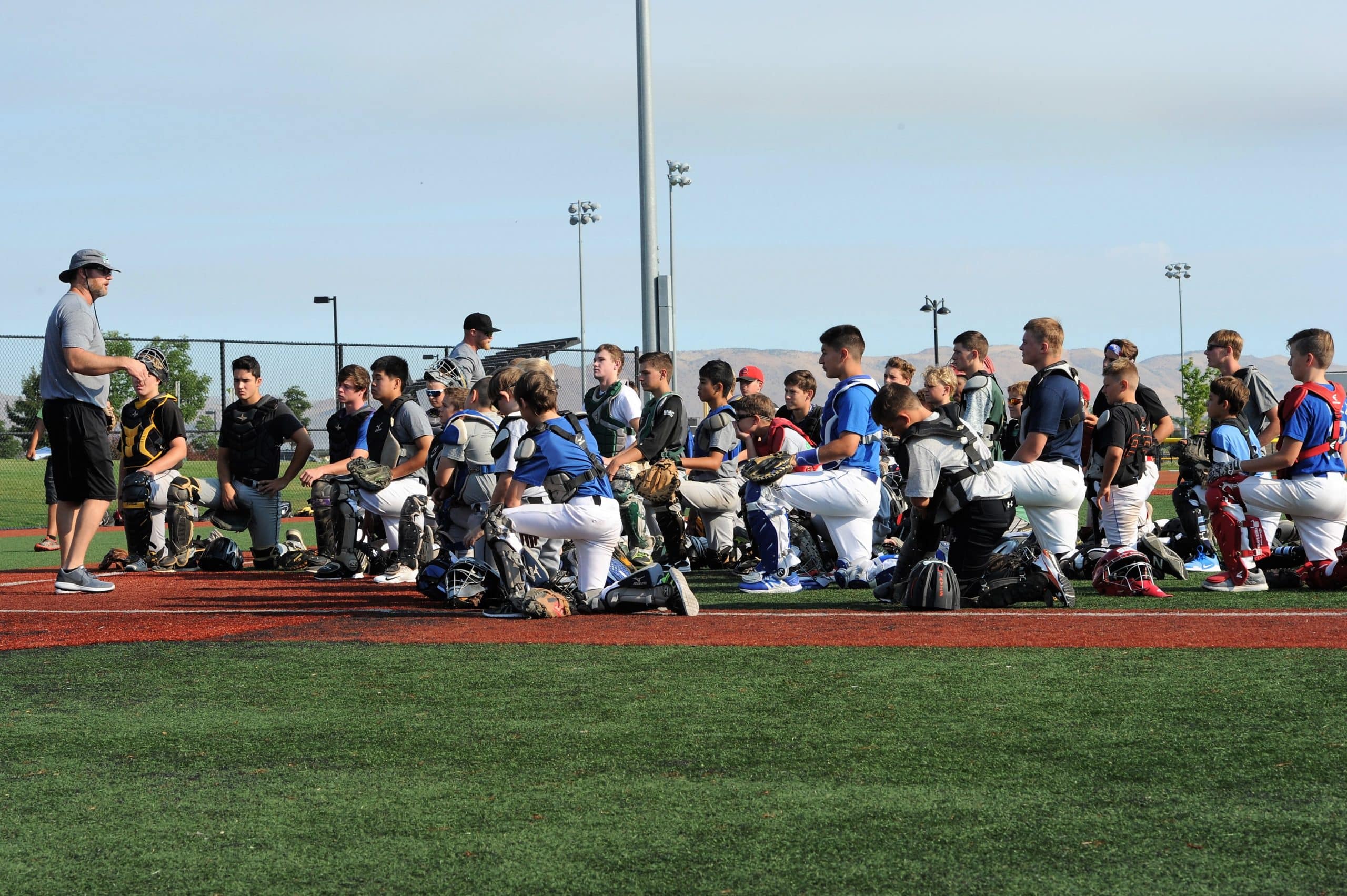 HERE IS A SAMPLE DRILL PERFORMED AT CAMP
"
WHAT PARENTS ARE SAYING ABOUT COACH TODD:
"Your delivery of instruction was stellar.  We loved everything from the stretches, drills, and technique tips.  Our catcher went to practice yesterday and was 1) communicating with everyone, 2) keeping mitt low and horizontal and elbow bent, and 3) letting the ball come to him!"  Best catching instruction received to date, and we are The Catching Guy fans!  THANK YOU!
"First off – you run an amazing camp and your insight to the position is unparalleled.  Cameron had a wonderful time and loved all the instructors.  He said that it seemed like all the instructors really cared about the players and helping every one of them improve.  That was his favorite part.  Having knowledge is one thing but being able to connect with kids and teaching them and connecting with them is great.

I want to personally thank you for your story at the end of camp.  The mental side of the game is so important and failing is always a tough pill to swallow.  I know your speech at the end hit home with Cameron.

Keep up the great work and I hope you continue to change lives through your camp."
"I know you get the brag emails ALL THE TIME, but the new confidence he displayed last night after attending your camp was like night and day.  We talk about 'separation days' a lot and I feel like he knows our investment this week gets him closer to his goals.  You're great with the kids and the content was better than expected for a combined (10U kids + 17U) camp.  Really, really excellent."
FREQUENTLY ASKED QUESTIONS
Why should my catcher attend this camp? What is The Catching Guy "difference?"
Todd Coburn
2020-05-15T19:40:40-07:00
There is A LOT of information out there about the position of catcher. Coach Todd is known for the ability to dissect the complex and present it in the simple. His ability to communicate the information in a manner that is relatable and understandable to catchers of all ages and experience levels is what sets him apart. Additionally, The Catching Guy events are not only designed to help develop the skills your catcher needs to succeed at the position, and in the game of baseball… there is also a large emphasis placed on building the confidence needed to succeed in the "game of life."
REGISTERING IS SIMPLE
Click the button below and fill out the checkout pop-up form. You can pay in full at time of registration OR there are payment plans available.
Keep an eye on your inbox for future emails from The Catching Guy team regarding camp.  If you don't receive one, please check your spam folder.
SPACES ARE LIMITED FOR EACH LOCATION
*8 to 1 catcher coach ratio*